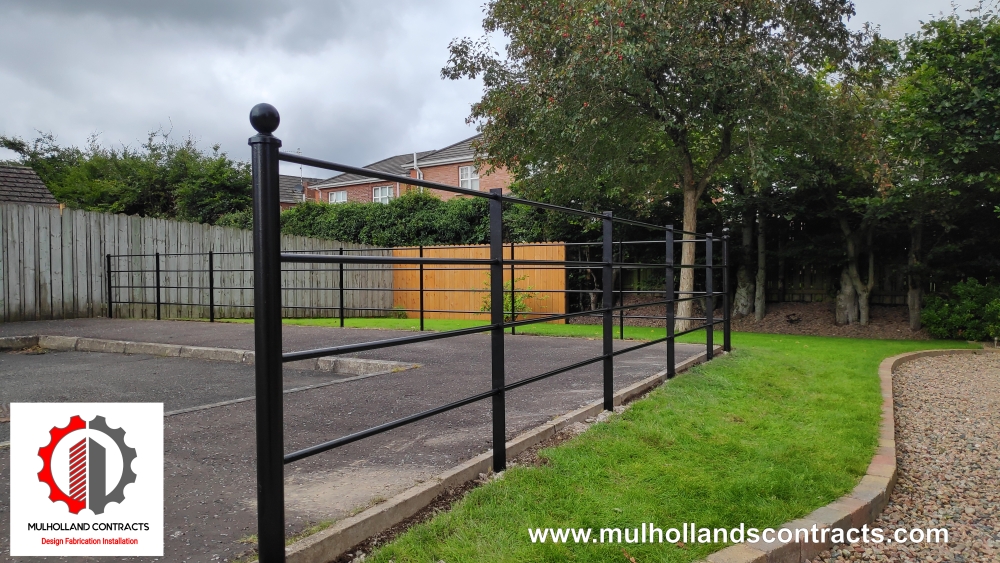 Estate fencing is at the heart of our business and we can provide and install it anywhere.
In keeping with our commitment to progress and respect for the traditional, we now produce a unique 'home installation' method for estate fencing, which enables it to be assembled by yourselves or local personnel. This 'easy fit' estate fencing has weld like strength, without the need for welding on site.
EASY FIT ESTATE FENCING
At all times we have a stock of quick fit fencing and aim to have your order processed and despatched to you within a few days.
The quick fit fencing uprights, posts and gates come already finished. The top rail and the three lower rails can be primed, galvanised or left natural ready for painting once they are in place. *Please note: When ordering, please state if you would like your estate fencing primed, galvanised or natural. If you are unsure, take a look at our finishes page for more details on the processes, or contact our team at Mulhollands Contracts
ESTATE FENCING – DIMENSIONS & DETAILS
Uprights – flat bar, Tube or Box
Top rail – 20mm solid round bar or 21mm tubing
Three lower rails – 20mm solid round bar or 21mm tubing
Small gate post – 80mm Square hollow section with traditional top
Large gate posts – Larger SHS
We also make tree guards click here to view our tree guards page.
As stated before, all our fences, gates and railings are primed as standard. We can also powder coat all of our products, resulting in an anti-corrosion finish.
CALL FOR A FREE QUOTE NOW!